If you want to eat healthy, save money and reduce food waste, the EatMe app is for you!
About this project
We all want to eat fresh, healthy food and many of us do our weekly grocery shopping with this in mind. With the best of intentions, we load up with fresh fruits, vegetables, eggs, meats and dairy and head off home with our haul. Refrigeration gives us the convenience of doing one weekly shop and storing all the produce right in our own kitchens.
But how often do you use all of the fresh produce you buy? Have you ever forgotten to eat something in your fridge – maybe those zucchinis in the back of the crisper, or the spare mushrooms you've been meaning to use up?
If you're like most households, you waste up to 30% of the food you buy. If your weekly grocery bill is $200, that's about $3,430 of wasted money each year. But it's not just about money – food waste is a significant source of greenhouse gases.
Sometimes it can be hard to come up with a recipe that will use up the random selection of ingredients left in your fridge at the end of the week. That's where the EatMe app comes in.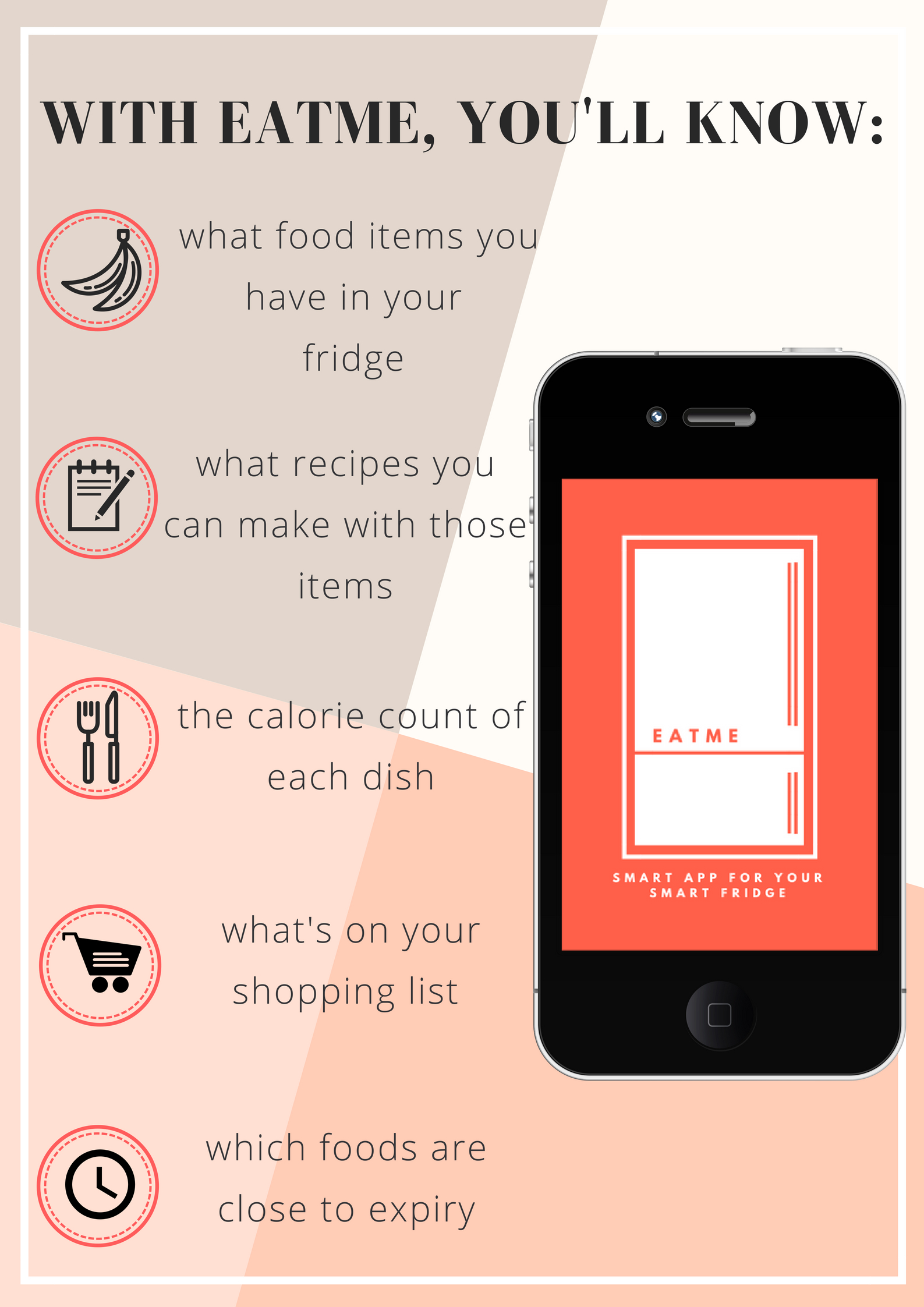 The EatMe app will help you make better use of the food you bring home by:
syncing with your smart fridge's cameras to tell you what food you have on hand, meaning you don't buy more of what you already have

suggesting nutritious and delicious recipes you can make with what you already have, or with the addition of just a couple of ingredients

providing a nutritional analysis of the recipes, helping you eat a balanced diet and keep track of your calorie intake

telling you when a food item is nearing its expiry date, so you can use it before it's too late.
The EatMe app will let you create a shopping list and will sync with major supermarkets so you can do your grocery shopping online.
The nutritionally backed and expertly curated collection of recipes will make it a delight to cook, and will save you the stress of coming up with something for dinner.
The EatMe app is designed to give you loads of great ideas for using up the ingredients you already have in your house.
Compatible with iOS and Android devices, the EatMe app will help you gain control over your kitchen.

What's driving us?
This project was born out of our passion for good food and our desire to end food waste. In industrialised countries like Australia, 40% of food waste comes from consumers and retailers. Australians throw out approximately three average fridges worth of food in a year, with the biggest culprits being:

18-24 year olds

households with an annual income of over $100,000, and

families with children.
But what if we could change all that? If everyone in the world wasted 25% less food, 870 million fewer people would go hungry. We've got to start somewhere, so why not start with the EatMe app.
Why we need your help
Food waste is a problem we need to tackle together. Our hope is that the EatMe app will make it that little bit easier to use what's in the fridge and avoid waste. Unfortunately, we don't have the resources of a big corporation; we're just a group of people trying to make a difference. We'd love you to partner with us by backing the EatMe app project and show your support for reducing food waste.
To say thank you for your generous support, we have created 5 reward tiers: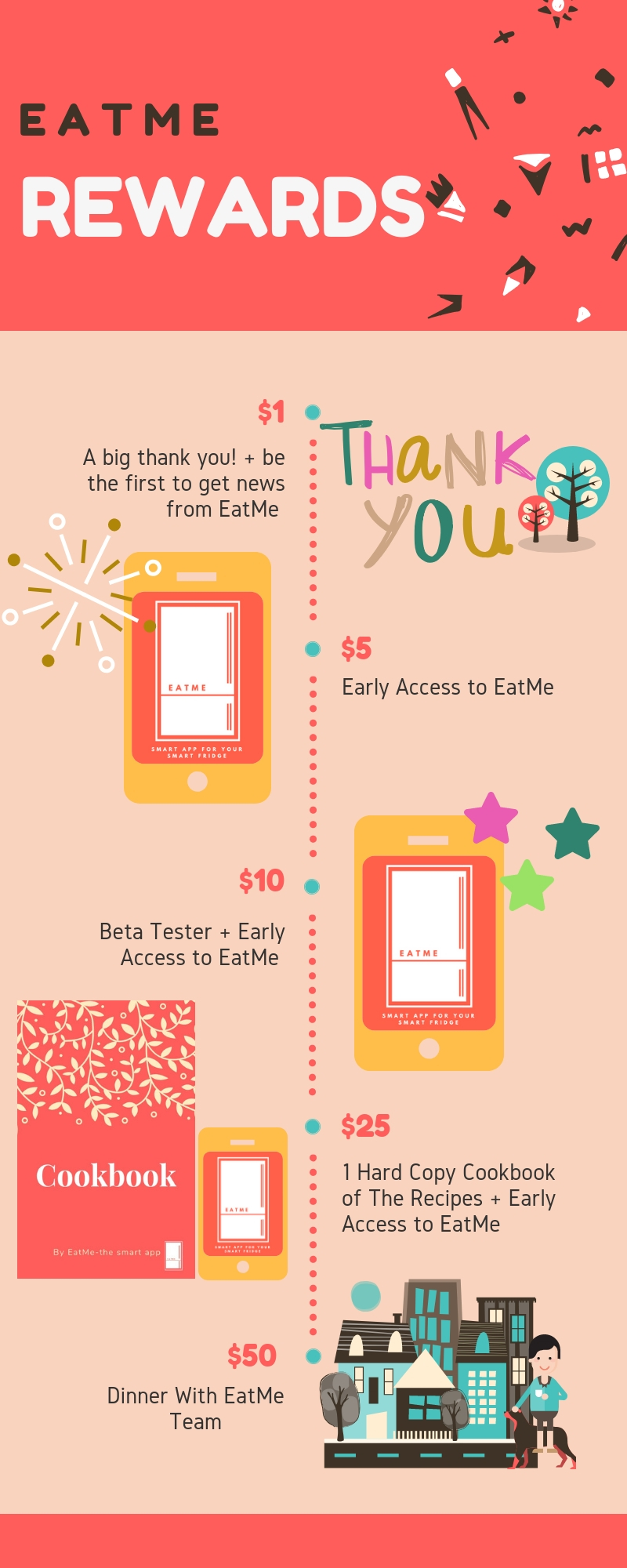 Give $1 and receive the EatMe app updates to track the progress of your investment

. You'll get behind-the-scenes info, an interview with the creators and collaborators, and the opportunity to see your donation making a difference. On top of that, you'll have

a huge thank you

from the EatMe app team!

Give $5 and receive early access to the EatMe app

, as well as ongoing updates as the EatMe app progresses. When it comes time to launch, you will receive priority access and be among the first to experience the EatMe app.

In addition to regular updates and early access the to EatMe app,

give $10 and you could join our Beta Tester team

. Be a vital part of the EatMe app project by testing early versions of the app and providing valuable feedback to the design and development team.

Because the EatMe app is full of delicious recipes, there will be

a limited edition companion cookbook

of the very best recipes from the app. The cookbook will only be available to people who

give $25 or more

. Plus, you will also receive updates throughout the project, early access to the app, and have the chance to vote on what recipes make it into the book.

To celebrate the launch of the EatMe app, we are planning a wonderful banquet showcasing the food from the app.

Give $50 and you could be sharing a celebration dinner with the EatMe app team

(Australian-based backers only). You will also get updates from the team and early access to the app.
Risks and challenges
As with any app development project, there are some risks that we need to mitigate, the main ones being the following: FOOTNOTE LOST HERE – HOW TO CITE?

Protecting intellectual property

– our own and that of others. Our code and our graphical, video or written content is protected by copyright and we commit to acknowledging the source of any material we use that we didn't create ourselves.

Maintaining data security

– again, our own and that of others. EatMe users need to be confident that the data the app is collecting about them is kept secure and is not misused.

Timeline blowouts

– the nature of software development makes it very difficult to say precisely how long the work will take. We are planning to have EatMe ready for beta testing within 6 months of reaching our funding goal. This timeline contains some generous padding so we're confident we can meet it.
One of the biggest challenges for the EatMe app is reaching a wide enough audience with our product to make a real difference. So we'd love you to help us spread the word. At the moment, the technology is only available to use with smart fridges. However, we'd love to see this technology adapted to regular fridges if the smart fridge app is successful.

Visit the EatMe app website: www.eatmeapp.com.au
Learn about accountability on Kickstarter.
Sources:
Video credits:
Music
Bongo Madness by Quincas Moreira from YouTube Audio Library (Free for commercial use)
Images
It makes noise by Michael LaMartin (CC BY-SA 2.0)
Computer Problems by CollegeDegrees360 (CC BY-SA 2.0) Nostalgia Trains Mark Subways' 110th Anniversary by Metropolitan Transportation (CC BY 2.0) Hurry Stress Time Management Timetable Schedule by TeroVesalainen (CC0 1.0)
Student Woman Startup Business People by StartupStockPhotos (CC0 1.0)
Acknowledgements & Disclaimer: This EatMe app blog post was created collaboratively by Lauren Bevilacqua, Heather King, Victoria Phillips and Julia Tran as part of a collaborative digital media project for assessment in the Social Media Principles and Practice unit at Deakin University. The post is intended to simulate the type of content found on crowd-funding sites such as Kickstarter. The EatMe app is entirely fictional and was created for the purposes of the assessment.